Congratulations to Anne Arrowood of Rocklin, CA!

Her expertly pieced Wrapsody was the winner of our January 2018 Handbag of the Month! Her prize? … a $25 virtual gift certificate and a permanent place of honor in our "Handbag of the Month Archive"!
Click HERE to see a photo of Anne's beautiful winning bag, but in the meantime, it's time to reset for a brand new month!
So…Whenever you're ready…Just scroll down to check them out!
This striking

Baggalista

was created by Georgia Segura of Pasadena, TX, who stopped by our booth at Quilt Festival in Houston, TX last Fall to show it off. If you look closely, Georgia also bedazzled the flap!

And this feline-themed

Guardian

was created by Sylvia Turner of the UK as a gift for an American friend.

Brenda Eggleston of Franklin, OH used our now-retired pattern, the

Harmony Handbag

to create this beautiful tote bag!
And since I love all things black & white,  I naturally was quite taken with Brenda Eggleston's Walkabout Wallet in harlequin. The polkadot trim was a perfect choice to go with this print, no? Brenda made this bag for her 19-year old granddaughter.

And this

Carolina CarryAll

(pattern now retired) looks crisp and feminine in white eyelet. Brenda Eggleston wisely added a "leatherette" base to this bag to aid in keeping it clean and crisp longer!
And this captivating

HipBag Hybrid

was created by Diane Rhodes of Monroeville, PA. Don't you just love the coordinating accessory items she added ?
And last but not least is this spectacular

Triple Play

by Patti Foley of Ocala, FL. Can you believe that Patti combined two pillow panels, mattress ticking, chambray and a paisley cotton to create this bag? She says she can't wait to show it off and I can't blame her!  🙂
So…there you have it!
Are you ready to vote now!
Click HERE whenever you're ready!
And if you'd like to leave some love for one of more of our contestants, please feel free to do in the space provided below!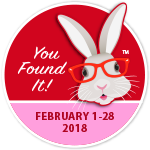 **********************************************************************************************
Guess what? We have a brand new private FaceBook Group page  just for StudioKat Designs customers?  It's the perfect place for you to post pictures, comments or questions about our patterns! How cool is that, right? And don't forget to check out the best sewing pins with me on Pinterest, get your daily sewing fix and behind the scenes scoops on Instagram, and be the 1st to know about new patterns, discount codes and sample sales by signing up for "Kat Bytes", our monthly newsletter.