So…
In a recent post we detailed our thinking for discontinuing our popular "Handbag of the Month" Contests, but here's the deal… I really hated dissolving that monthly tradition since I knew that many of you really LOVE seeing these bag pictures every month ! That's why it was so exciting when we saw how many gorgeous bag pictures were being posted over on our new StudioKat Designs Group page on FaceBook! Not only are they beautifully made but they're beautifully photographed as well, and that's when I decided that they were in fact "too beautiful not to SHARE"! After all, these bags deserve extra attention & applause!
So here's the yummiest "Eye Candy" posted in April 2018
(presented in order according to date posted in our Group).
Agnes Smith's Go-Go Compact
I'm totally into the bright yellow interior on this adorable little bag!

Pat Leask's  Everyday Attache
This color scheme has plenty of drama! It's beautifully photographed too!
Cheryl Klink's Quattro
Cheryl made this bag for her sister who chose coated cotton for the exterior.
Don't forget about our big zippersale this weekend! We're offering 15% off our entire line of specialty zips until midnight tomorrow night to celebrate National Zipper Day! Start shopping here – http://bit.ly/SKDzippersale
(Sale prices are only available at the URL listed above.)

Julie Hoyt's Everyday Attache
This bag of Julie's has everything I love… organization AND it's purple!

Donna Lamont's Go-Go Compact
Donna said the silky brocade she chose for this exterior was difficult to work with but payed off BIG in the end!
Jeanne Harrington's HipBag Hybrid
Jeanne made this cutie for her soon-to-be daughter-in-law to take on her honeymoon!

Judy Stuart's Go-Go Compact
I love Judy's eclectic mix of fabrics and the yellow mesh pocket is such a nice interior surprise!
Debbie Hataley's Go-Go Compact
Debbie used the same fabric for her bag as we featured on the cover for this pattern and did an exceptional job doing so! Excellent fussy-cutting too! 🙂
And finally, here's Cheryl Garst's Guardian Bag
Cheryl showed some bravery combining these three fabrics but it payed off BIG for her!
***************************************************************************************************
So there you have it!

These are the bags that made me look twice (or more) during the month of April 2018. I hope you enjoyed seeing them as much as I did and if you'd like to join our new FaceBook group page to these types of posts and SO much more, just click HERE. And remember, we love reading your comments and answering your questions too, so please feel free to leave either or both in the space provided below.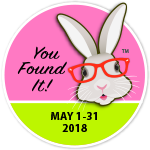 If you're interested in checking out the "Eye Candy" from previous months…
just type the words Eye Candy into the search bar located in the right-hand column of this post!
**********************************************************************************************
And guess what? We have a brand new private FaceBook Group page just for StudioKat Designs customers? It's the perfect place for you to post pictures, comments or questions about our patterns! How cool is that, right? And don't forget to check out the best sewing pins with me on Pinterest, get your daily sewing fix and behind the scenes scoops on Instagram, and be the 1st to know about new patterns, discount codes and sample sales by signing up for "Kat Bytes", our monthly newsletter.